Start Working With Your Favorite Brands In The Next 10 Days, Without Spending The Next Year Trying To Figure It Out On Your Own.

YOU DON'T NEED A LARGE FOLLOWING TO GET CLIENTS.
There, I said it. Now watch the video below to learn how to book paying clients this week doing what you love :)
10 Day Brand Photographer is a carefully designed course to help photographers at any skill level establish themselves, gain confidence, and work with the brands they love.

Enroll now for about what I charged my very first client, PER PHOTO.
(Currently Over 70% Off!)

As soon as you enroll, I want you to join the private Facebook group and drop a comment with your biggest obstacle so I can help you find a solution.

ENROLL NOW TO START BOOKING CLIENTS THIS WEEK
Learn How To Collab With Clients And Turn Them Into Your Biggest Fans
What Students Are Saying...
"This course is one the best courses I've invested in! I wanted a course that was a good balance between learning the business side of things and the creative side and I found it.

Beau explains things in a very understandable way and gives you practical action steps.

I'd recommend this course to anyone who's just starting out and needs more direction or if you're looking for help on getting more clients. "
-LJ H, USA
What's Included In The Course To Get You Booked Fast!
What Students Are Saying...
"I've been taking photos for years but I've always struggled with the business side of things.

The 10 Day Brand Photographer course has provided tools to help me structure my pitching methods and shown me how to stand out from others.

In his video tutorials Beau is great at motivating you and has been amazing at giving personal feedback whenever needed."
- Bryce P, UK
Enroll Now To Take Your Photography To The Next Level And Work With Your Favorite Brands!
---
What You're Going To Learn To Make FAST Progress In Your Career

You're getting all of the most important pieces to the puzzle each day.

These modules were developed from my own experience after working with big name brands. Each step is designed to help you understand what clients are looking for, and how to position yourself to be their go to photographer.

If you're a beginner, this course is for you. This structure of this course is designed to help you go from no clients to working with your favorite brands in a 10 day curriculum.

Everything you will learn is direct, to the point, and followed up by the exact steps you must take, to stand out and start working with brands.
---
Day 1

|

How to make the most of this course
Develop a winning mindset - So you can start standing out and and maintain confidence, even through challenges.
Understand which direction you should go as a professional photographer.
Set actionable goals that will keep you motivated and moving forward in your career.
Day 2 | Equipment, techniques
& camera settings
Learn what camera & equipment to buy based on your budget so you can get into profit mode right away. (I started with a $600 kit).
Understand how to optimize your camera settings so you never miss a shot and feel like you wasted your time.
Learn how to craft high quality images your clients will love and want to ask for more.
Go behind the scenes on a shoot so you understand what to expect and can make the most out of any environment.
Day 3 | How to stand out
Learn how to position yourself as a professional, even if you're new to photography.
Dial in your online presence so your client understands the value you're going to bring them.
Develop your own unique branding to be proud of.
Learn my favorite tools in Lightroom so you can process your photos faster and easier.
Day 4 | Finding clients to pay you
Feel relieved now knowing you have a never ending supply of clients.
Discover creative ways to find new clients in your niche that nobody is talking about.
Create your dream list of clients you want to work with and start making it your reality.
Eliminate stress by incorporating my methods to staying organized with clients.
Day 5 | What to say & send to clients
Feel confident after learning how to craft an attractive pitch for your clients.
Save time and energy with my tested email templates.
Learn where and how to create your own unique media kit that stands out to your clients.
Finally understand what it takes to land a brand deal from start to finish by watching me land a deal without a large social media following.

Day 6 | Choosing your rates, negotiating & understanding contracts
Feel confident knowing you priced your work competitively and aren't settling for less than you feel you are worth.
Worry less knowing you used a contract to protect yourself and your photos.
Learn how to handle the most common questions clients ask.
Day 7 | Planning your shoot
Save time by learning how to properly plan your photoshoot before you leave the house.
Gain more clarity on what to expect by going behind the scenes with me on a product photoshoot.
Save yourself time and money with my before and during shoot checklist that's available for download.
Day 8 | How to edit your client photos
Editing tutorials for Lightroom and Photoshop that will get you excited to work on your new client photos.
Save time by understanding the best tools to use to make your photos stand out.
Eliminate headaches & disasters by learning how to backup and organize your photos efficiently.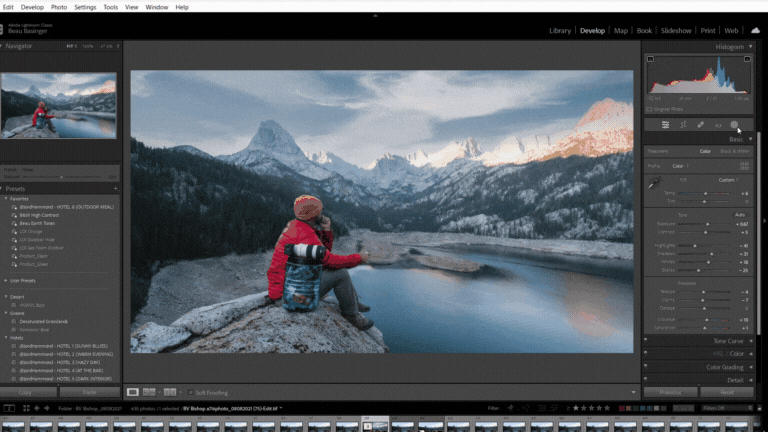 Day 9 | How to deliver client photos, invoice and collect
Impress your clients even when invoicing so they want to hire you again.
Learn what to say to get repeat business so you can spend more time doing what you love.
Save time with downloadable templates to use for invoicing.
Day 10 | Scaling your business
Understand how to scale your business to the next level so you keep moving up in your business.
Expand your reach with other avenues to grow your business.
Discover where your business may need to improve so you get a greater ROI.
Bonus Modules
Pre-launch means that videos and modules will be updated based on what YOU want to learn by sharing it in the private Facebook group.
Interviews with clients helping you understand what they're looking for when working with photographers.
Improve your ability to take photos for brands when you're by yourself so you don't have to pay for models.
What Students Are Saying...
"I do appreciate the amount of things you taught me and information you gave to me.

I do feel like a lot of times, even if you get somebody's course, they still hold out on some information for some reason. You gave me a lot of really, really useful information that I can put into action right away and I really appreciate that."

-
Ikenna A, USA
Additional Bonuses You Get As Soon As You Enroll
Frequently Asked Questions
How Long Do I Get Access?
Is This Course For Beginners?
Should I Try Doing This Own On My First?
© 2023 Beaudacious Media Group, LLC
By visiting this page, you agree to terms and conditions, privacy policy & earnings disclaimer.

This site is not a part of the Facebook website or Facebook Inc. Additionally, This site is NOT endorsed by Facebook in any way. FACEBOOK is a trademark of FACEBOOK, Inc.
DISCLAIMER: The sales figures stated on this landing page and discussed in the 10 Day Brand Photographer program are our personal sales figures and in some cases the sales figures of previous or existing clients. Please understand these results are not typical. We're not implying you'll duplicate them (or do anything for that matter). The average person who buys "how to" information gets little to no results. We're using these references for example purposes only. Your results will vary and depend on many factors including but not limited to your background, experience, and work ethic. All business entails risk as well as massive and consistent effort and action. If you're not willing to accept that, please DO NOT PURCHASE the 10 Day Brand Photographer course.