Start Working With Your Favorite Brands In The Next 10 Days, Without Spending Months Trying To Grow Your Following.

Whether you're a beginner photographer or a seasoned veteran without a social media following, watch the video below to learn how to create photos for brands doing what you love.
10 Day Brand Photographer is a carefully designed course to help photographers at any skill level establish themselves, gain confidence in their skillset and work with the brands they want.

Enroll now to get the exclusive pre-launch price at $99!
(Over 70% Expiring Soon!)
CLICK NOW TO SAVE OVER 70%
Learn How To Collab With Clients And Turn Them Into Your Biggest Fans

"The pictures are absolutely incredible. They're exactly what we were looking for in terms of set-up, quality, and visual storytelling.

We're really, really pleased."
- Caroline

"We are truly thrilled having the new digital assets for our chairs.

The shots came out really fantastic and hits the marks we were looking for."
- Adam
"Thank you so much for these incredible shots! Our entire office has been buzzing with excitement over these. You present great composition in a wide variety of situations that will be applicable to so many of our needs."
- Grant
---
What You're Going To Learn In The Course
Students spoke, I listened.
You're getting all of the most important pieces to the puzzle each day.

These modules were developed by interviewing photographers of all skill levels. I'm answering the most common questions you need to know to go from no clients to working with your favorite brands.

Everything you will learn is direct, to the point, and followed up by the exact steps you must take, to stand out and start working with brands.
---
Day 1 - How to make the most of this course
Develop a winning mindset - So you can start standing out and working with brands.
Understand which direction you should go as a professional photographer.
Set actionable goals that will keep you motivated and moving forward in your career.
Day 2 - Equipment, techniques
& camera settings
Learn what camera & equipment to buy based on your budget so you can get into profit mode right away. (I started with a $600 kit).
Understand how to optimize your camera settings so you never miss a shot and feel like you wasted your time.
Learn how to craft high quality images your clients will love and want to ask for more.
Go behind the scenes on a shoot so you understand what to expect and can make the most out of any environment.
Day 3 - How to stand out
Learn how to position yourself as a professional, even if you're new to photography.
Dial in your online presence so your client understands the value you're going to bring them.
Develop your own unique branding to be proud of.
Learn my favorite tools in Lightroom so you can process your photos faster and easier.
Day 4 - Finding clients to pay you
Feel relieved now knowing you have a never ending supply of clients.
Discover creative ways to find new clients in your niche that nobody is talking about.
Create your dream list of clients you want to work with and start making it your reality.
Eliminate stress by incorporating my methods to staying organized with clients.
Day 5 - What to say & send to clients
Feel confident after learning how to craft an attractive pitch for your clients.
Save time and energy with my tested email templates.
Learn where and how to create your own unique media kit that stands out to your clients.
Finally understand what it takes to land a brand deal from start to finish by watching me land a deal without a large social media following.

Day 6 - Choosing your rates, negotiating & understanding contracts
Feel confident knowing you priced your work competitively and aren't settling for less than you feel you are worth.
Worry less knowing you used a contract to protect yourself and your photos.
Learn how to handle the most common questions clients ask.
Day 7 - Planning your shoot
Save time by learning how to properly plan your photoshoot before you leave the house.
Gain more clarity on what to expect by going behind the scenes with me on a product photoshoot.
Save yourself time and money with my before and during shoot checklist that's available for download.
Day 8 - How to edit your client photos
Editing tutorials for Lightroom and Photoshop that will get you excited to work on your new client photos.
Save time by understanding the best tools to use to make your photos stand out.
Eliminate headaches & disasters by learning how to backup and organize your photos efficiently.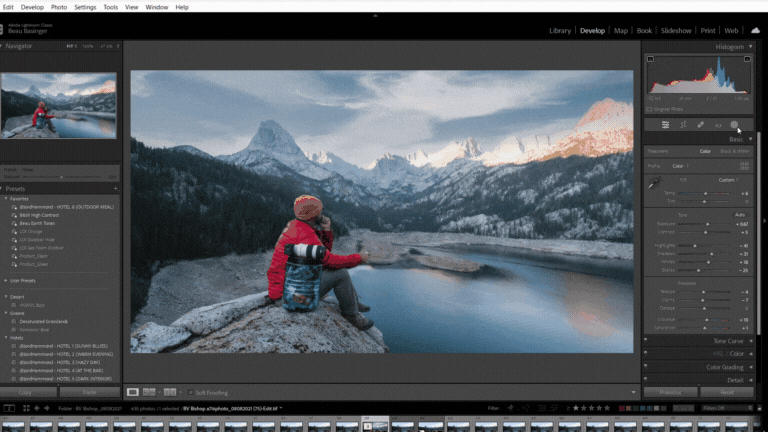 Day 9 - How to deliver client photos, invoice and collect
Impress your clients even when invoicing so they want to hire you again.
Learn what to say to get repeat business so you can spend more time doing what you love.
Save time with downloadable templates to use for invoicing.
Day 10 - Scaling your business
Understand how to scale your business to the next level so you keep moving up in your business.
Expand your reach with other avenues to grow your business.
Discover where your business may need to improve so you get a greater ROI.
Bonus Modules
Pre-launch means that videos and modules will be updated based on what YOU want to learn by sharing it in the private Facebook group.
Interviews with clients helping you understand what they're looking for when working with photographers.
Improve your ability to take photos for brands when you're by yourself so you don't have to pay for models.
What's Included In The Course
Value Packed Video Tutorials
This course will include dozens of detailed video tutorials that are direct and to the point, making your goal of becoming a paid photographer quicker and easier than ever before.

We cut the fat when creating these videos so you don't have to listen to another sponsored video on YouTube.
Daily Action Steps
All of the information in these modules is WHAT you need to know.

Now we're going to put it all together and TAKE ACTION so you're doing the actual work that's going give you the best chance of getting clients. No more guessing.
Templates & Downloads
You're getting some of my most effective templates created to pitch clients and stay organized, saving you time and money right from the start when developing your business.
Behind The Scenes Tutorials
If you haven't been on a photoshoot, you may still think you don't know what to expect.

I'm going to take you along some of my photoshoots and editing sessions, so you have an even greater understanding, and make fewer mistakes, when you're out there putting in the work.
Future Competitions & Paid Brand Deals
The mission of this course and community is to help you develop your skills and deliver great service to your clients.

We will be hosting friendly competitions to help you challenge yourself and experiment with what you're learning.

I will also be working with brands to help you get your foot in the door and have the opportunity to work with them.
Exclusive Community
Community is often overlooked when we're freelance. We think we have to do everything on our own, like it's a badge of pride.

One of the best things we can do is collectively learn from others, gather input when we need it most, and lift each other up by celebrating wins.

In the private group I'll be answering questions, hosting live trainings, and giving feedback on your work when you need it.

There will also be opportunities to be a part of community travel adventures and job shadow real brand shoots.
Hey! I'm Beau Basinger and just like many of you... I found a love for photography and wanted to start working with brands I liked. The hardest part was getting the knowledge I needed in a quick, organized way that I could apply to my career immediately.

After years of struggling to learn on YouTube, tons of practice, trial and error, I finally broke through the initial resistance and began booking work with big name brands, all without a large social media following.

Today I'm sharing all of the most valuable lessons I learned to go from amateur to professional in this program so you can do the same in the quickest way possible. You'll get all of the most important tools I personally use to start working with brands along with techniques that will help you stand out!
---
Some Brands That I've Worked With
---
---
Examples Of My Client Work
---
Who This Course IS For
Someone who is finally ready to stop wasting time and start working with the brands they like.
Someone who needs to follow a step by step, proven plan and implement what they learn.
Who This Course Is NOT For
Someone who doesn't value saving their time by following proven plans.
Someone who isn't willing to follow instructions and prefers to figure things out on their own by trial and error.
Frequently Asked Questions
How Long Do I Get Access?
After you enroll, you have lifetime access to the course.
I'm stoked to be able to offer this to you!

Being an early adopter today gives you access to any and all future content in this course.
Is This Course For Beginners?
This course is for ANYONE that wants to learn how to use their camera better, create jaw-dropping images, learn where and how to contact potential clients, and create and build a profitable photography business.

The strategies in this course are designed to help a photographer at
any skill level run a well organized and profitable photography business.
Should I Try Doing This Own On My First?
If you've already tried tried on you're own and you're struggling, you may need to do something different. What is it costing you in time and money by not following a proven path by someone that does this full time?

If you're just getting started out with photography... How much time do you
want to keep wasting by searching for all the answers on your own and going through countless videos?

We all know that whenever you're investing your time into something, you're giving up that time somewhere else. That can be expensive when you're focusing on the wrong things.
Is There A Guarantee?
If, for any reason, I don't launch this course I will refund your entire purchase.

Look at it this way, I will be answering questions in the private Facebook group and you will have basically received professional coaching, for free.

You have nothing to lose & everything to gain with the Brand Photography Blueprint.
© 2023 Beaudacious Media Group, LLC
By visiting this page, you agree to terms and conditions, privacy policy & earnings disclaimer.

This site is not a part of the Facebook website or Facebook Inc. Additionally, This site is NOT endorsed by Facebook in any way. FACEBOOK is a trademark of FACEBOOK, Inc.
DISCLAIMER: The sales figures stated on this landing page and discussed in the 10 Day Brand Photographer program are our personal sales figures and in some cases the sales figures of previous or existing clients. Please understand these results are not typical. We're not implying you'll duplicate them (or do anything for that matter). The average person who buys "how to" information gets little to no results. We're using these references for example purposes only. Your results will vary and depend on many factors including but not limited to your background, experience, and work ethic. All business entails risk as well as massive and consistent effort and action. If you're not willing to accept that, please DO NOT PURCHASE the 10 Day Brand Photographer course.